Reverse Engineering Services
Reverse Engineering Services
YUJUN Technology Co., Ltd. specializes in the development of reverse-engineering products. Our company is the minority manufacturer which is equipped with the abilities of complicated curved surface (Turbo Pump blade, turbine vane, special aerospace component) , and five-axis processing and manufacturing。

Reverse engineering, proceeding reverse analysis and research, is a technical process. Reach a conclusion of processing, organization structure, function, and effectiveness of product through deduction so that we can produce effective but completely different products. Reverse engineering originates from territories of commercial and martial hardware analyzing. The main aim is that under the condition which one cannot easily obtain necessary production information, we directly derive the design fundamental of the product from the analysis of finished product.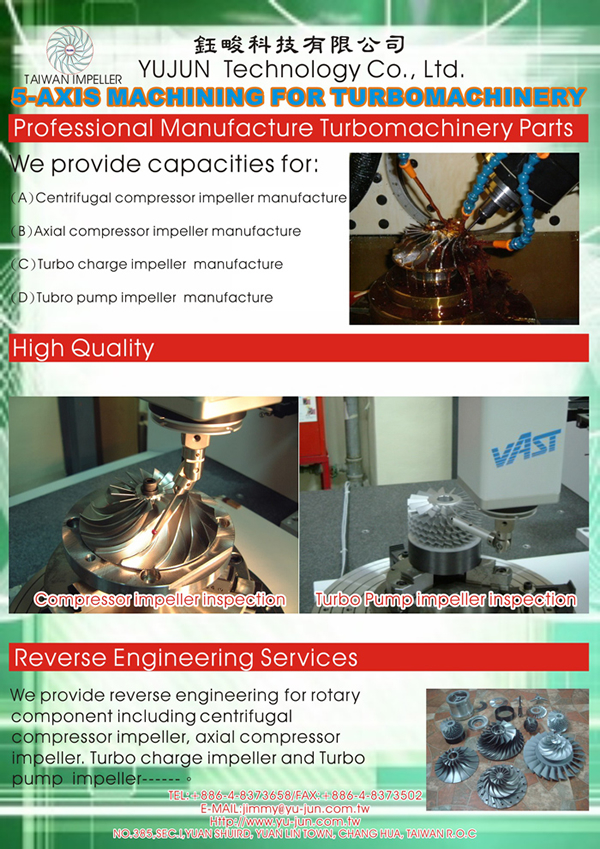 Turbo Pump Turbine Vane
YUJUN Technology Co., Ltd. currently has tapped into reverse engineer and developed the model of Turbo Pump blade: Leybold TW250S series,Leybold TW701 series,Pfeiffer TMH071 series,Pfeiffer TMH260 series,Pfeiffer TMH261 series,Pfeiffer TMH262 series,Pfeiffer TMH1001 series, Pfeiffer TMH1600 series,Pfeiffer TPH2101 series,and Osaka TG220FRWB,Seiko Seiki STP-A2203,Seiko Seiki (Edwards)STP-A1303,Seiko Seiki (Edwards)STP-A803, Seiko Seiki (Edwards) STP-H1303C,Seiko Seiki (Edwards)STP-H803, EBARA ET-1600WS.--------
渦輪葉片
鈺畯科技目前利用逆向工程技術已經開發完成渦輪葉片有以下類型: